The coupling system can only be disconnected after its closure, and it is not possible to disconnect during the transfer of fluid, which increases safety and prevents failures during the process.
The existing models allow use in the most varied uses and applications such as transferring, loading or unloading vapors, petroleum products, acids, solvents and pressurized gases in pressure classes up to # 300lbs.
API Couplers
---
API couplers for liquid transfer, marketed by Redlands, are manufactured according to the strictest quality standards, incorporate the most modern in terms of technology and security in connections and meet and / or exceed the practical recommendations of API RP1004 .
Steam couplers are also manufactured in accordance with API RP1004 and are responsible for the recovery of vapors on Bottom Loading loading platforms. The use of this system for the transfer of liquids and gases reduces the emission of vapors at the terminal and contributes to the improvement of health and environmental conditions.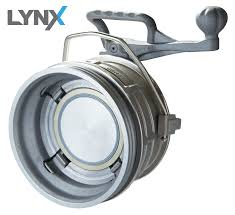 Dry Disconnect Couplings
---
Wide application in transfer and handling operations of dangerous liquids and gases, mainly in the chemical and petrochemical segments. Also available for LPG, aviation market and cryogenic products. The system consists of a coupler (female) and an adapter (male) in the same dimension for quick and secure coupling. It allows opening and flow only when coupled and its release is dry and without splashing or emitting vapors into the atmosphere. They are manufactured in the most diverse materials and seals and are available in diameters from 1 "to 8". Installation can be done by means of flanges or threaded connections to allow greater flexibility and meet the most diverse specifications.
Breakaway
---
Breakaway safety couplings are used to protect terminals and equipment in loading / unloading operation. In cases of accidental pulls on the equipment, reaching the predetermined breaking point, these couplings will separate and the internal valves will automatically close on both sides, eliminating the unwanted release of the product. They act as a fuse in your production line. We have several models and diameters for land and marine applications.